Kopejkin
Свій




З нами з: 04.03.15
Востаннє: 03.04.21
Повідомлень: 92


2017-01-27 15:33
TreeSize Professional 6.3.6.1211 RePack by Kopejkin (2017) [Ukr]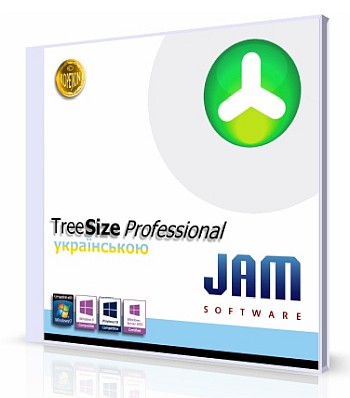 Версія:

6.3.6.1211


Захист:

Вже вилікувано



Операційна система:

Windows


Офіційний сайт:

JAM Software



Опис:


TreeSize Professional показує дерево каталогів, що знаходяться на жорсткому диску разом з їх розмірами, дозволяючи, при необхідності, роздрукувати результат. Інтегрується в Провідник Windows, додаючи новий стовпчик. Програма видає інформацію про кількість файлів у теці, дату останнього доступу, власника файлу і багато іншого. Крім цього, виводить дані в наочному графічному вигляді (діаграма), має вбудовану систему пошуку і експорт/імпорт результатів в XML-файл. Також дозволяє відшукати найстаріщі, найбільші, тимчасові та дубльовані файли. Підтримує режим командного рядка - це зручно для запуску програми за розкладом. Передбачено створення запланованих завдань перевірки за вказаними шляхами і формування набору звітів.

Системні вимоги:
Windows 10, Windows 8.1
Windows XP / Vista / 7 / 8
Windows Server 2012 R2
Windows Server 2003 - 2012
(32 and 64 Bit)
Особливості програми:
Efficient Disk Space Management from all perspectives


See the size of all folders including their subfolders and break it down to the file level.
Visualize disk usage in the pie or bar chart.
Tree maps visualize hierarchies and sizes of subfolders in the selected directory.
Detailed view with single files and additional information (e.g. date of last access).
Statistics about file types and file owners for every branch.
Filter the file system tree on the left by a certain user or file type.
See a list of the 100 largest files.
Distribution of occupied disk space by file age.
Scan FTP, WebDAV, and SharePoint servers.
Disk Space Management on smartphones and mobile devices.



Versatile File Search


Integrated file search.
Fully customizable file search.
Archive, copy, or move the results of the TreeSize File Search, for instance lar, old, or temporary files or files of a certain type.
Search multiple drives, whole servers and even your entire network neighborhood.
Search results can be exported, moved, deleted or passed to any executable file or script.
TreeSize offers a powerful duplicate file search, optionally with MD5 or SHA256 checksums. TreeSize also enables you to easily deduplicate files using hardlinks.



Exporting and Reporting


TreeSize enables you to export scan results (showing the directory structure) to many different formats such as Excel, XML, HTML, text/CSV file, clipboard, or email.
Export a list of all files in the scanned folder and its subfolders, for example for use in a database.



Track Growth


Save the data to an XML file and load it again later.
See which folders have grown: Compare a saved XML file to a current version of the file system branch, TreeSize Professional displays the difference between the two scans.
Take snapshots of the current state of disk space usage and compare them with snapshots Windows takes automatically.



Customized Analyses & Views


Configure displayed columns for the details view, Excel export, text file and printed reports.
Include and exclude certain files or folders in your scans.



Scheduled Scans


Command line options allow automatic and scheduled scans of your hard disk (e.g. overnight) and generating reports.
Comfortable interface simplifies creation and editing of scheduled scans and exports as Windows tasks.



High Performance thanks to Multithreading


Browse the results during scanning.
Scan and view several folders at the same time.
Automatic adjustment of the number of threads that are used for a scan.



Full NTFS Support


Unicode file and folder names are supported.
File based NTFS compression.
Hardlinks and Alternate Data Streams (ADS).
File paths longer than 255 characters will be found and processed correctly.
Analyse NTFS permissions.



Perfect Integration with the Windows Explorer


Explorer context menu supported inside the TreeSize window.
TreeSize Professional can be started from within the Windows Explorer.
Drag and Drop is enabled.
On a Windows Core Server TreeSize can serve as a graphical user interface.



Full Network Support


TreeSize Professional offers full support for network drives and scans UNC paths like Servershare.
Що нового:
Changes in V6.3.6

(19 Jan 2017)

Bugfix: The column "File version" now displays the file version from EXE and DLL files, and no longer the product version. The advantage of the file version is that it typically has more digits and a fixed format, while the product version can be any text.

Bugfix: "File Open" and "File Save" dialogs work as expected again on Windows Core Server.

Bugfix: An error that occurred when trying to scan folders on a mobile device on Windows Insider build 14986 has been fixed.

Bugfix: The 64 Bit version could not be started on Windows Insider build 14971. This problem has been fixed.

Bugfix - File Search: Copying a file including its permissions to a location with limited access rights could lead to an unhandled error when TreeSize Professional tried to apply the permissions. This issue has been fixed.

A new option in the installer allows to decide whether the desktop icon is created for the current user or for all users. In previous versions it was created for the current user only.

A few minor fixes and improvements have been incorporated.
Про перепаковану версію:
Вбудована "реєстрація" дозволяє, якщо потрібно, зареєструватися офіційно (з допомогою придбаної ліцензії).

Універсальна програма встановлення для 32- та 64-розрядної версії програми.

Одна мова інтерфейсу - українська (переклад: Kopejkin). Англійский інтерфейс легко встановити методом видалення ресурсної бібліотеки.

Збережено можливість автоматичного встановлення .NET Framework 4.0 Full (якщо не встановлено версію вище).
Процедура лікування:
Ця перепакована версія програми

не потребує

лікування.
Якщо у вас є легальний інсталяційний номер, можете замінити інсталяційний номер програми власним. Задля цікавості, можна змінити інсталяційний номер, скориставшись генератором номерів.
Щоб змінити номер, запустіть програму TreeSize і в меню довідки виберіть відповідний пункт.
Згенеруйте номер з допомогою генератора та вставте у відповідне поле.
Бажано на цей час від'єднатися від інтернету.
Не намагайтеся оновити програму з нелегальним номером - це не вдасьтся.
Джерело:

Інше



Авторський реліз (завантажувати можна без реєстрації)

Трекер:
Зареєстрований





відео для новачків




Зареєстрований:
2017-01-27 15:33
Розмір:

28 MB

Оцінка програми:

10

/10 (Голосів:

6

)