ssTAss
Модератор музики




З нами з: 05.07.08
Востаннє: 22.10.17
Повідомлень: 12107


2015-07-05 19:59
Лариса Ковальчук - Ой співаночки мої (2014) [MP3] | Folk / Bandura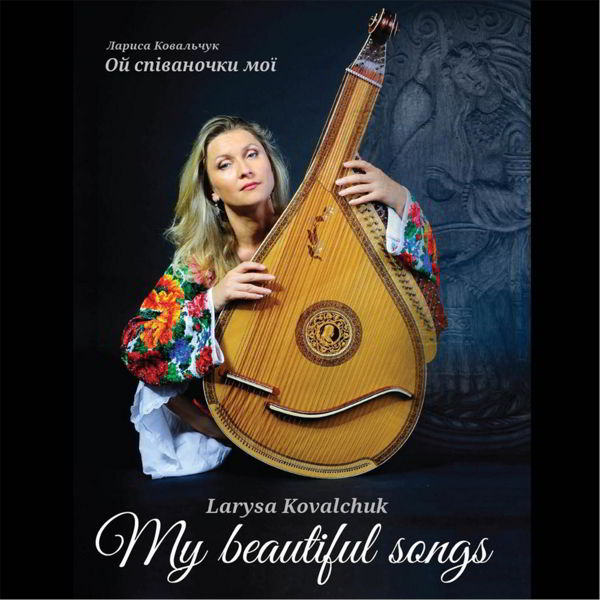 Стиль:

Folk, Bandura


Країна:

Україна/Австралія


Видавець:

Larysa Kovalchuk (CDBaby 888174746906)


Пісні:



01. Ave Maria
02. Oj Litaje Sokolon'ko (The Falcon Is Flying)
03. Hlyboka Kyrnytsya (The Well Is Deep)
04. Chotyry Voly Pasu Ya (I Am Herding Four Oxen)
05. Odarka's Song from the Cossack Beyond the Danube
06. Yak Ishla Ya Polonynkov (I Walked the Highland Pasture)
07. Lemkivskyi Tryptykh (Lemko Songs)
08. Solovejko (The Nightingale)
09. Oj Ya Znayu Scho Hrikh Maju (I Know I Have Sinned)
10. Dala's Mene Moya Mamo (Мother, You Gave Me Away)
11. Porizala Pal'chyk (I Cut My Finger)
12. Syva Zozulen'ka (The Grey Cuckoo)
13. Giusto Ciel! (from "Maometto Secondo")
14. Oj Zahraly Muzyky (The Musicians Played)
15. Narod Mij Je (My Country Lives On)



Тривалість:

00:51:21


Мова:

українська, італійська (1,13)


Аудіо-кодек:

MP3




Бітрейт:

320 кб/с




Джерело:

інтернет


Додаткова інформація:




про альбом (англ.)

The Bandura is often considered the soul of Ukrainian people. It traces its origins back to the 6th Century, where in ancient Greek chronicles it is described as a lute-like instrument played by warriors. Between the 17th- early 20th centuries, traditional itinerant musicians known as kobzars wandered the many villages of Ukraine, singing epics about the heroic exploits of the Ukrainian Kozaks.

In the 20th century the instrument acquired more strings becoming fully chromatic with a range of almost 5 octaves. The modern concert bandura has 65 strings with a sound that combines features of the harp, guitar and harpsichord. Since Ukraine's independence in 1991, and with the revival of folk traditions and epic ballads, the bandura has regained its prominent place as Ukraine's national instrument. It is taught as a solo and ensemble instrument in music schools and conservatories across Ukraine.

Larysa is one of the world's greatest bandura artists. Larysa holds a Masters Degree in Music Performance from the Kyiv Conservatory of Music, Ukraine and a Masters Degree in Education from Sydney University, Australia. Larysa began her career in music at a young age studying both folk and classical music. She continued her studies in music performance at the Kyiv Conservatory, where she majored in voice, bandura and conducting.

In time, Larysa became one of Ukraine's leading exponents of the bandura winning the title of "National Laureate" in many bandura competitions. She has performed to capacity audiences at festivals in Ukraine, Latvia, Estonia, Germany and France. In Australia, she recorded for the SBS, performing at such venues as at the Sydney Opera House, numerous Multicultural Festivals and events, Australia Day Concerts, Musica Viva and Café Carnivale.

She combines flawless virtuoso bandura technique with a finely trained voice, and on this foundation she also has the ability to improvise and interpret the true nature of the character in the song she performs. Every performance hаs something profoundly new, opening up deep feelings.

"A bandurist with everything in place : a voice of astonishing purity, precision and scope, extensive dynamic and tonal range, imagination, insight and wit - all this is combined with a dazzling charm that it 's almost impossible to turn away from when she performs" is what has been written about Larysa and her performances in Ukraine.





Якщо Ви справді бажаєте підтримати українське - після прослуховування, якщо музика вам сподобалась,


придбайте ліцензійний диск

.
Підтримаймо вітчизняних виконавців!



Бронзовий реліз (на рейтинг впливає 75% завантаженого)

Трекер:
Зареєстрований





відео для новачків




Зареєстрований:
2015-07-05 19:59
Розмір:

119 MB

Оцінка музики:

3.3

/10 (Голосів:

16

)